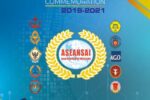 This ASEANSAI Commemoration Book Part 5 with the theme "Leading ASEANSAI in the New Normal" is a compendium of commitment by SAI Malaysia as the Chairman of ASEANSAI in the period of 2019 to 2021. In addition, it is a documented acknowledgement and appreciation to all Chairs of Committees and ASEANSAI members for their continuous effort, support and cooperation to ASEANSAI for the two (2) years period.
SAI Malaysia has presided over ASEANSAI since November 2019. In the first quarter of the chairmanship, the world was hit by unprecedented crisis of Coronavirus Disease 2019 (COVID-19) pandemic. The programmes and activities of ASEANSAI for 2020 and 2021 have been relatively affected. In response to the crisis, in June 2020, ASEANSAI has issued an updated ASEANSAI Calendar 2020-2021, by setting priorities to conduct strategic meetings and programmes via video conferencing in 2020 and the subsequent value-added programmes, such as trainings and webinars in 2021.
The four (4) ASEANSAI Committees, namely Knowledge Sharing Committee, Training Committee, Strategic Planning Committee and Rules and Procedures Committee need to strategies on how to fit in the rapid and dynamic change of information technology in the ASEAN landscape. The Knowledge Sharing Committee revise the Terms of Reference of its Committee. The revision was intended for providing mandates and opportunities for all ASEANSAI Members to explore innovative ways using the art of information technology, in designing future knowledge sharing sessions. The Training Committee which is responsible for modernizing the training modules utilize Learning Management System (LMS) with online mentoring and coaching. Training Need Analysis to all ASEANSAI Members has been used as a basis for the upcoming training modules. In addition, ASEANSAI also launch ASEANSAI Strategic Plan 2022-2025 in the 6th ASEANSAI Summit. This new strategic plan will hold each Committee responsible for each of ASEANSAI Strategic Goals based on the model used by INTOSAI Strategic Plan. In addition, the Rules and Procedures Committee has updated ASEANSAI internal regulations regarding administrative matters biennially and also upon request by the ASEANSAI members.
ASEANSAI needs to leverage on the momentum of the digital transformation and utilises digital technologies. This is apparent to enhance ASEANSAI programmes in building the auditors' capacity. Moving forward, ASEANSAI has to embrace innovation, build up our digital connectivity, and make ourselves ready by maximizing the use of technology in developing our specific action plans and innovative projects that will improve our audit delivery system.
Besides a wider use of technology, ASEANSAI has to start planning to develop a recovery framework that is durable, long-lasting, inclusive and capable of safeguarding the interest of our region. Hence, business as usual is no longer be an option for ASEAN and ASEANSAI in the post-pandemic world. A paradigm shift will be required for all ASEAN governments, businesses, civil society and auditors to work collectively to enable systemic changes needed by the region for a sustainable and resilient future. To support in the attainment of this strategy, ASEANSAI priorities will have to focus on sustainable programmes that is hybrid of online and face-to-face activities. This is the time when we should enhance our cooperation and embrace the spirit of ASEAN and the core values of ASEANSAI, especially the good governance and accountability in the public sector.
Download ASEANSAI Commemoration Book Part 5: Leading the ASEANSAI in the New Normal