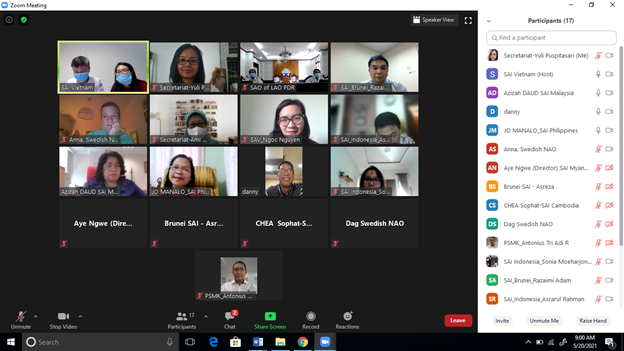 State Audit Vietnam as the Chair of ASEANSAI Strategic Planning Committee (SPC) organized a Virtual Committee Meeting on 20 May 2021. The Meeting was attended by twenty two participants from eight SAIs and two observers from Swedish National Audit Office (SNAO). SNAO sent their experts to support ASEANSAI in developing the ASEANSAI Strategic Plan 2022-2025.
The Meeting was organized as a platform for the SPC members to discuss the Needs Assessment Report, SWOT Analysis, the potential SGs, SOs and priorities for the Strategic Plan as well as the other issues concerning the development of the upcoming Strategic Plan.
Mr. Ha Minh Tuan, Deputy Director of Department of International Cooperation, started the meeting by conveying a short remarks which expressed the expectation from the Chair of SPC for the meeting output and participation of the SPC members in contributing to the development initial draft of the ASEANSAI Strategic Plan 2022-2025.
The meeting discussion focused on the Needs Assessment Report and the result of the SWOT Analysis as presented by Ms. Nguyen Thi Be Ngoc, Deputy Head of Multilateral Division at Dept. of International Cooperation.
She presented the overall results of the satisfaction score on the current Strategic Plan for 2018-2021, that most member SAIs have shown their satisfaction with the implementation results during the period. The highest score are for SG 5 "To improve the cooperation with regional and international partners" and SG 6 "To strengthen organizational governance of ASEANSAI". While for the revision of the current Mission and Vision of the SP 2018-2021, a majority of SAIs support these two strategic issues should be kept the same for the next Strategic Plan. The meeting also discussed some solutions/considerations to formulate the new SP 2022-2025, among others are the need of ASEANSAI to include VUCA (Volatility, Uncertainty, Complexity, and Ambiguity), Disruptive technology, New Normal of post Covid -19 pandemic, possible emerging issues. This issue is expected will enable the new SP managed and run in the proper direction.
At the end of the meeting, SAI Vietnam summarized the meeting result and invited all meeting participants to provide their input for the initial development of the Strategic Plan through email.