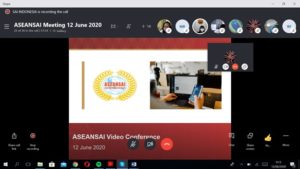 With the purpose to coordinate the 2020 activities due to the global health emergency condition, the ASEANSAI Video Conference was held on 12 June 2020. 26 participants from 6 member-countries, as representatives from Executive Committee, Chair of ASEANSAI Committees and Secretariat were actively involved in the Conference. The event was officially opened by the remarks from Tuan Haji Khalid Khan bin Abdullah Khan, Deputy Auditor General (Performance) of SAI Malaysia as the Representative Chairman of ASEANSAI.
Led by Bahtiar Arif as the Head of ASEANSAI Secretariat, the Conference discussed on issues as follow:
Revised ASEANSAI Calendar 2020;
SME for ASEANSAI programs;
Executive Committee Meeting and Legal Capacity Issues;
Action Plan for Strategic Plan 2022-2025 and Cooperative Environmental Audit; and
Knowledge Sharing on how ASEANSAI Responds to COVID-19 and the plan to organize a cooperative environment audit.
Constructive discussions were made during the meeting and positive follow up from respective participants was expected to implement future activities of ASEANSAI.