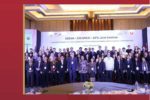 As a more mature organization, ASEANSAI has been conducted number of productive activities in 2019: (1) to promote the accountability and transparency of public administration within ASEAN region by organizing the ASEAN-ASEANSAI-AIPA Joint Seminar on Laying the Foundation for Future Cooperation; (2) to strengthen ASEANSAI active role within ASEAN by attending annual ASEAN Forum, as well as attending various ASEAN bodies' meeting and those of associated entities; (3) to maintain communication with International Development Partners (OAGN, EU, IDI); and (4) to improve the management of organization of ASEANSAI whereby the upgraded ASEANSAI website was launched with new Knowledge Management System (KMS) called "Essentials".
In the regional collaboration, the representatives of ASEANSAI participated at the 2019 2nd INTOSAI Regions' Coordination Platform Meeting. Also, in 2019, ASEANSAI has started the trainings on compliance audit and financial audit as the part of sustainability program of previous Long-term ASEANSAI Program on ISSAI Implementation (LTAPII).
At the 5th ASEANSAI Summit, a Forum to raise awareness on SAI Performance Measurement Framework (PMF) for high level was successfully delivered as well as the handed over of ASEANSAI Chairmanship for the period of 2019 – 2021 from The State Audit Organization of Lao PDR to Jabatan Audit Negara Malaysia.
Finally, a renewal of Memorandum of Understanding between ASEANSAI and Swedish National Audit Office (SNAO) has been signed at the end of the period to support the remaining activities of ASEANSAI Strategic Plan 2018 – 2021.