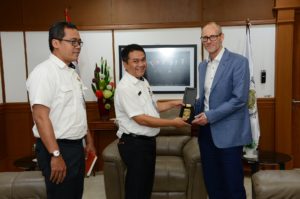 Mr. Ingvald Heldal from Resident Advisor from The Office of the Auditor General of Norway (OAGN) visited the ASEANSAI Secretariat on 1 July 2019 to strengthen the relation and to seek further possibilities for collaboration in the future.
Received by Mr. Bahtiar Arif as the Secretary General and Head of ASEANSAI Secretariat accompanied, OAGN shared about their methods on technical assistance, bilateral collaborations with ASEANSAI and seeking for possible initial cooperation activities and long-term cooperation between ASEANSAI and OAGN.
The relation with OAGN has been established since the Donor Coordination Meeting (DCM) in November 2017, the communication has been managed intensively. So far, the collaboration between the organizations will cover the area of SAI PMF and OAGN will support
ASEANSAI by providing Subject Matter Expert.
So far, the coordination also tied with SAI Philippines as the Chair of ASEANSAI Training Committee and committee responsible for ASEANSAI activities related to the SAI PMF. The OAGN delegation visited SAI Philippines in May 2019 to discuss the implementation of the SAI PMF and they planned to organize a meeting which involving the Auditor General to raise awareness and emphasize the benefits of the SAI PMF, either through internal self-assessment or peer review.