The ASEANSAI was invited to attend the 2nd Meeting of the INTOSAI Regional Coordination Platform Second in Cape Town, South Africa from 21 to 23 May 2019. This meeting which was hosted by SAI of South Africa served as a forum to strengthen synergies among INTOSAI and Regional Organizations.
More than 50 participants from all INTOSAI Regions, INTOSAI Goal Chairs, the Policy, Finance and Administration Committee, INTOSAI-Donor Cooperation, General Secretariat, IDI, INTOSAI Journal and the next INTOSAI Chair attended the meeting which was opened by Kimi Makwetu, Auditor-General of South Africa and the Chairperson of INTOSAI Capacity Building Committee.
The first day of the meeting was break out into Regional Organizations' round table and INTOSAI Global Bodies' round table to discuss different issues and attended by related organizations in accordance with their roles.
The meeting also discussed about the importance of leadership and INTOSAI's role in strengthening current and future leadership within INTOSAI and its members, current state of ISSAI quality and utility and what can different parties do to further the quality of INTOSAI professional pronouncements and other INTOSAI products, cChallenges and success factors in ISSAI implementation, including the need for professional quality control and quality assurance processes to support the implementation, better INTOSAI communication to improve impact and increase accessibility, audit of the implementation of the UN Sustainable Development Goals, information about the upcoming INCOSAI in Moscow, updating of the SAI PMF Implementation Strategy and the strategic development of the INTOSAI-Donor Cooperation.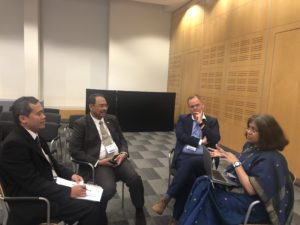 At the same occasion, the ASEANSAI Secretariat had the opportunity to hold a bilateral meeting with the INTOSAI Development Initiative (IDI). The IDI was represented by Einar Gørrissen, Director General, and Archana Shirsat, Deputy Director General. The meeting discussed the progress of the implementation of the IDI – ASEANSAI Cooperative Financial Audit Program 2018 – 2019 and discussed related discussions on open cooperation in other areas.
This collaboration is expected to support the capacity building of the ASEANSAI, not only in the regional level but also at the organizational and professional level in accordance with the international best