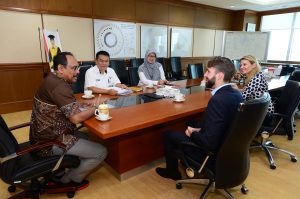 JAKARTA, 20 March 2019 – As the German Government's support to ASEANSAI, implemented through GIZ, will end in April 2019, Principal Advisor of the "Support to ASEANSAI" Project, Ms. Birthe Meyer, accompanied by Mr. Johannes Kummerow, met the Vice Chairman of BPK, Prof  Bahrullah Akbar for the official farewell. Accompanied by Secretary General of BPK, as the Head of ASEANSAI Secretariat, Mr. Bahtiar Arif, Prof Bahrullah Akbar conveyed his appreciation to GIZ for the support given to ASEANSAI since 2013.
On that occasion, Vice Chairman of BPK highlighted the various forms of support to ASEANSAI, provided by the project, including trainings, knowledge sharing activities, and the development of ASEANSAI's organizational capacity. Those activities covered various areas of ISSAI implementation through LTAPII, the development of an ASEANSAI monitoring and evaluation system, the improvement of relations with Development Partners, and the establishment of the ASEANSAI Knowledge Management System "ASEANSAI Essentials".
Furthermore, Prof. Bahrullah Akbar also emphasized that the GIZ team's support has not only facilitated ASEANSAI activities but has also contributed to improving the capacities and skills of ASEANSAI personnel. As ASEANSAI Secretariat, BPK learnt a lot from this project such as professional project management and organizational capacity.
At the end of the courtesy call, Prof. Bahrullah Akbar wished every success for the GIZ team and hoped that there will be another opportunity to enhance the cooperation between ASEANSAI and Germany in the future.