"Laying the Foundation for Future Cooperation in Promoting Accountability and Transparency in Southeast Asia"

JAKARTA, 26 February 2019 – The Vice President of the Republic Indonesia Jusuf Kalla opened the first seminar promoting accountability and transparency in Southeast Asia in Jakarta this morning. The seminar was jointly organised by ASEAN Secretariat (ASEC), ASEAN Supreme Audit Institutions (ASEANSAI) and ASEAN Inter-Parliamentary Assembly (AIPA).
The three organisations recognise the need to build connections beyond the government level to promote accountability and transparency in ASEAN, benefitting the people. With the support of the German Government, through the "ASEC 2025′′, "Support to ASEANSAI" and "AIPA4ASEAN" projects, implemented by GIZ, the seminar brought together around 100 senior officials and representatives of the three organisations and other entities in ASEAN.
In his Special Remarks, the Deputy Secretary-General (DSG) of ASEAN for Community and Corporate Affairs, Dr AKP Mochtan, commended the timely convening of this important seminar, which he believes will contribute greatly to the advancement of the ASEAN Community as a whole. He highlighted that governments and public institutions usually use regulations to promote accountability and transparency. In this regard, he urged all ASEAN agencies to work together with the ASEAN Secretariat and to reinforce the importance of promoting good governance, which is a critical feature in the "ASEAN 2025 Vision: Forging Ahead Together".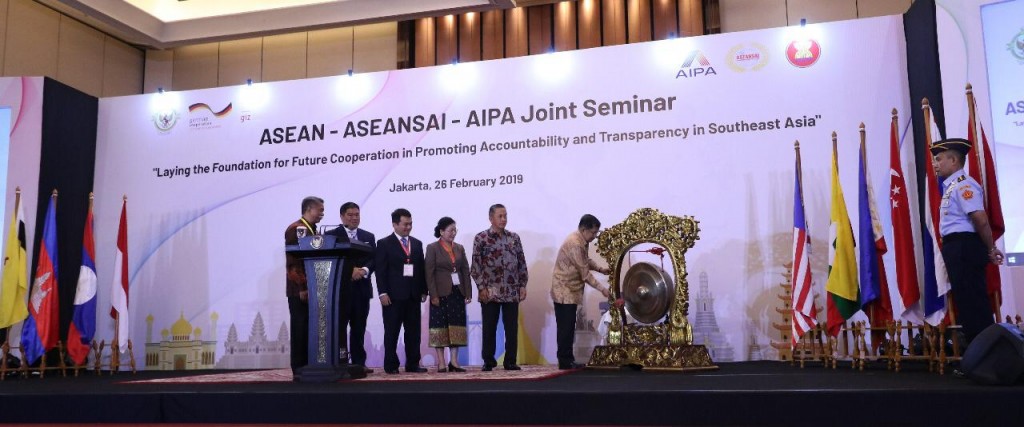 Chairperson of ASEANSAI and President of the State Audit Organization of Lao PDR, Dr. Viengthong Siphandone, expressed her appreciation for the initiative to firstly co-organise this event. "Ten Supreme Audit Institutions (SAI) in ASEAN have established the regional association ASEANSAI, in 2011 in Bali, to promote capacity building in public sector auditing of its members. This way, ASEANSAI is contributing to the improvement of transparency and accountability in Southeast Asia," she said. Dr. Siphandone further explained that SAIs in ASEAN have contributed to the audit of financial statements of the ASEAN Secretariat every year. Supreme Audit Institution plays a prominent role to promote the efficiency, accountability, effectiveness and transparency of public administration. "With the support of Parliaments and governments, as SAI's main partners, SAIs will perform their role more efficiently and effectively in their respective countries," she highlighted.
Dr. Siphandone assured ASEANSAI's commitment to build future cooperation with ASEC and AIPA, to promote transparency and accountability in Southeast Asia.
AIPA Secretary-General Isra Sunthornvut appreciated the ASEANSAI for initiating a joint event on such important issue. He acknowledged the importance of having accountability for parliaments as well as having internal mechanism in each country to ensure the accountability to happen. He admitted, however, that applying accountability for regional organisations like ASEAN, ASEANSAI and AIPA, where there was little to no public interest, remained a challenge. Who and how to set the standard were other challenges, he added. Further, he stated that to make these regional organisations more people-oriented and people-centred, there has to be not only more people participation, but also a willingness from the organisations to be scrutinised and checked. people partic ipation, but also a w illingness f rom the organisations to be sc rutinised and c hec ked. "Otherwise, like the present-day ASEAN Community, we will be just another name that has no emotional connection to the people," he said.
During the seminar, participants identified good practices in their work to promote transparency and accountability of the public sector. They explored common interest and opportunities for future collaboration between ASEAN, ASEANSAI and AIPA to strengthen relationships and synergies of their works to contribute to Good Governance in ASEAN. This inaugural event of cooperation among the three ASEAN entities will develop concrete proposals for collaborative action in the future, to jointly work towards more transparency and accountability in the region.
Loading...