Fraud, whether in the private or the public sector, has become widespread and a major problem. In the public sector, Supreme Audit Institutions (SAIs) are established to support and help improve performance and ensure accountability of governments for the benefit of the citizens.  And in order to realize such mandate, coupled with appropriate policies, the people constituting the SAIs should be equipped with the necessary competencies, to fight the war against fraud, waste, and abuse in government.
Fraud involves deliberate misrepresentation of facts and/or significant information to obtain undue advantage or illegal financial advantage.  Fraud investigation tries to determine whether fraud has taken place and tries to detect evidence if fraud has occurred.  Traditional financial bursa escort audit rarely detects fraud because it is not designed or aimed at doing so.  While there may be opportunities to find fraud during such financial audit, the auditor must be armed with sufficient knowledge and skills in order to detect, as well as prevent, fraud.
ASEANSAI Training Committee and The Audit Board of the Republic of Indonesia have organized the ASEANSAI Workshop on Fraud Audit Investigation in Jakarta from 27 to 31 August 2018. The workshop aims to increase the capacity of ASEANSAI members in the field of Fraud / Investigation, especially to assess risk, determine predication, conduct alternative procedures and help to prevent fraud.
Attended by 29 participants from ten SAIs member of ASEANSAI and guest participant from the ASEAN Secretariat, the workshop was officially opened by Prof. Dr. Moermahadi Soerja Djanegara, Chairman of the Audit Board of the Republic of Indonesia (BPK). In his speech, the Chairman of BPK said that there were a number of minor cheats that were revealed before the fraud became huge. There were also well-publicized failures when big frauds break into public awareness. However, one thing that we can never really know is how many frauds big or small are prevented just by having a Supreme Audit Institution ready and able.
The opening session was preceded by welcoming remarks from the Representative of ASEANSAI Training Committee, Delia D. Agatep, Director IV, Commission on Audit of the Republic of the Philippines. She emphasized that SAIs do financial, performance and compliance audits, but these are not designed at detecting fraud. The information gathered in these audits, however, can provide significant lead in pursuing a fraud audit. Thus, this Workshop is a big leap toward equipping you with the knowledge and skill to fight the war against fraud, waste, and abuse in government. The opening session was also attended by the Secretary General of BPK, Principal Auditor Investigation of BPK and representative from German Government as ASEANSAI development partner.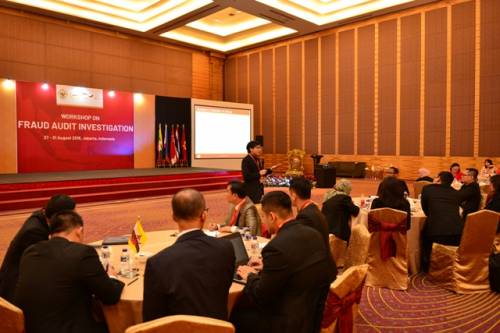 The workshop was conducted five days combined between lecture, group activities, discussion and exercises with the basic topics related to the fraud, such as identify predications of fraud and sources of fraud information initial assessment of fraud cases, planning the conduct of fraud audit investigation, conducting fraud audit investigation and reporting results.
filmizle
2016 filmleri
film izle türkçe dublaj