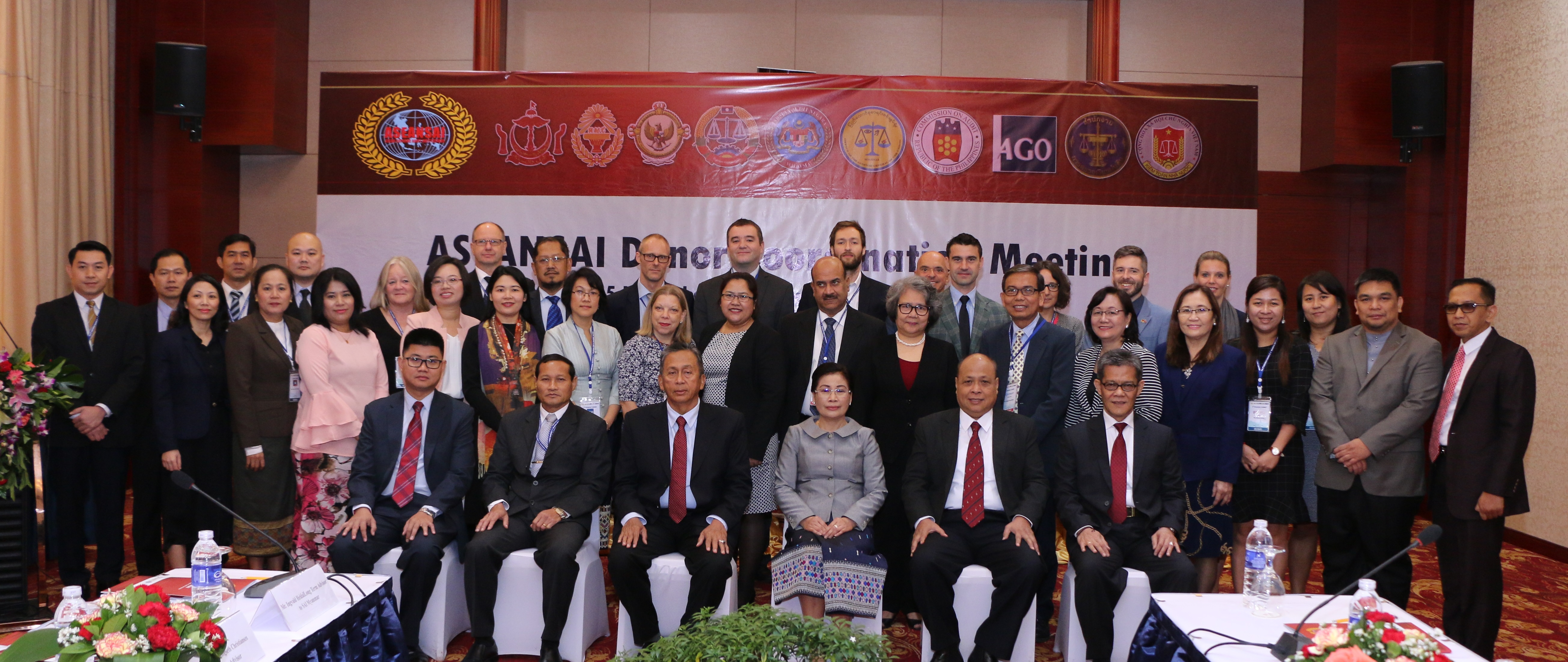 Forty four delegates from members ASEANSAI memberss and invited development partner (ADB, European Union, German Government, Office of the Auditor General of Norway, Swedish National Audit Office and World Bank) were took part at the ASEANSAI Donor Coordination Meeting held on 5 November 2017 in Landmark Mekong Riverside Hotel, Vientiane, Lao PDR. The meeting was officially opened by Dr. Mrs. Viengthong SIPHANDONE, President of the State Audit Organization of Lao PDR and Vice Chairperson of ASEANSAI. She emphasized that by improving SAI's capacity, it could give more meaningful feedback and recommendations to the government. This will lead to enhance the governance's accountability and welfare of citizens in each ASEAN country, and eventually in the ASEAN region.
The opening session, then, continued with the Statement from Dr. Moermahadi Soerja Djanegara, Chairman of the Audit Board of the Republic of Indonesia as the ASEANSAI Secretariat. He stated that the ASEANSAI has the opportunity to craft a successful strategy for good governance in moving away from ad hoc arrangements into an integrated approach to ASEANSAI capacity development, a platform that opens lines of communication, establishes expectations and builds upon the successful track-record of ASEANSAI. This platform for coordination among donors, implementing agency and SAIs, will create synergy for donors and ensure the alignment of all activities.
The Donor Coordination Meeting was led by  Dr. Hendar Ristriawan from SAI Indonesia as the  Head of Secretariat Function, accompanied by Sophat Chea from SAI Cambodia as the Head of Administration Function. During the meeting, ASEANSAI Committee Chairs (Strategic Planning Committee, Training Committee, and Knowledge Sharing Committee) presented the prioritized projects. Strategic Planning Committee has 2 prioritized projects; (1) Coordination with Committee Chairs on upgrading the current Monitoring & Evaluation System (MES); and (2) Support the development of ASEANSAI Strategic Plan 2022-2027. While on the other side, Training Committee has 3 prioritized projects; (1) Follow-up Workshop on the Audit of Public Procurement (FUWAPP); (2) Workshop on Audit on Preparedness of Countries for Implementation of Sustainable Development Goals (SDGs); and (3) Workshop on SAI Performance Measurement Framework (SAI PMF) for future assessors. Lastly, Knowledge Sharing Committee has 2 prioritized projects; (1) Good practices on SAI Independence; and (2) Sustainable development related issues.
In response to presentation from the Committees, Development Partners expressed their support to ASEANSAI as follows:
SAI Norway offered to provide expertise on SAI PMF through sharing of experience.
Swedish National Audit Office (SNAO) confirmed to continue the support on LTAPII and to provide expertise on Strategic Plan to assist the Strategic Planning Committee in developing the next Strategic Plan.
GIZ offered its support in upgrading the MES.
Further as the results of the meeting, participants agreed to conduct two main activities that focusing on coordination and information between Development Partners in working with SAI in ASEAN as well as ASEANSAI and on support to ASEANSAI as organization and its regional activities.
In coordinating and sharing information between Development Partners who work with SAI in ASEAN as well as ASEANSAI, it is planned to be implemented via ASEANSAI Newsletter and development of portal information that serves as ASEANSAI-Development Partners forum which will be put further in the ASEANSAI website.
In upcoming future, this portal information will contain information on capacity building program undertaken by ASEANSAI, including the information on support by relevant Development Partners as well as the information on any bilateral or multilateral cooperation between ASEANSAI member and Development Partners.
ASEANSAI Secretariat will become the lead in creating the portal and expect input from each of Development Partner to achieve a comprehensive overview on the activities. Further, it was also agreed that in focusing the support to ASEANSAI as organization and its regional activities, a scoping mission as an initial activity must be conducted before Development Partners getting engaged with ASEANSAI. This is for befitting the expectation between Development Partners and ASEANSAI as well as defining the area of cooperation and clarifying the needs of the SAIs.
In the future, ASEANSAI Secretariat will assist in arranging the missions jointly with relevant committee chairs and in serving as entry point for Development Partners. Moreover, the ASEANSAI Strategic Plan will be the outline for this scoping missions.