During 29th -31st August 2017, Office of the Auditor General of Thailand was a project leader and host of the Workshop on Audit Complaint letter: ASEANSAI Fighting against Corruption. Since 2015 SAI Thailand was assigned to be a project leader in three clusters, that is, auditing water management (2015), auditing public private partnerships (2016), and auditing complaint letter (2017). All workshops are fruitful and successful. SAI Thailand could lead to share knowledge and experiences from our ASEANSAI community.
For this workshop, the topic is the auditing complaint letter: ASEANSAI and fighting corruption which focused on seven topics. SAI Thailand invited famous experts from academic and international areas. On the first day, Dr. Bandid Nijathawon, a keynote speaker, gave his speech about ways forward to Anti-Corruption in ASEAN. He pointed out that the successful case of anti-corruption process should be consisted of (1) breaking the culture especially catching the big fish, (2) transparency, competition and market forced of economic policy, (3) transparent public procurement with external auditor, (4) collective action with private sector, and (5) active civil society for combatting corruption.  Meanwhile, Dr. Torplus Yomnak, a political economist from Chulalongkorn University, gave a lecture about corruption under political economy perspective. He suggested interesting academic researches in corruption studies. In addition, he recommended how SAI could use data mining and data analytic for fighting against corruption.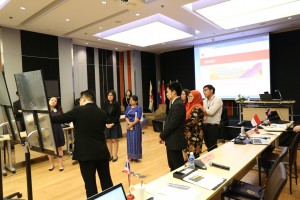 Likewise, Mr. Simon Chirwa, a public procurement specialist of World Bank, shared the role of international organization and fighting against corruption. He mentioned to the integrity unit of World Bank which have several alliances and formal networks to fight against corruption around the world. He discussed the common integrity issues as fraudulent bid, bid rigging, Shell Company, inflated or false claims. Meanwhile, the anti-corruption expert of Anti-Corruption Agency of Thailand, Mr. Akharakit Keeratithanachaiyos, sheared the topic regarding the cross-border cooperation on corruption investigations in the ASEAN region. He explained major developments of anti-corruption in the regional and international agreement especially UNCAC. Interestingly, he clarified formal channels of obtaining evidence form foreign jurisdictions.
As a project leader, SAI Thailand represented the investigative audit: lessen learns form SAI Thailand. Mr. Rattham Chuanchoei, investigative expertise, shared the procedure and techniques of investigative audit of SAI Thailand. Also, Mr. Pitikhun Nilthanom, another investigative expertise, showed the new paradigm for anti-corruption which called proactive audit under proactive approach.  This workshop opened the floor to share country papers which SAI Cambodia, Indonesia, Philippines, Singapore, and Thailand presented their experiences about auditing complaint letter. Finally this workshop obtained the objective successfully.
---
By Dr. Sutthi Suntharanurak, Director of Auditing Development division of Research and Auditing Development, Office of the Auditor of Thailand. He is a project leader and representative of SAI Thailand in Knowledge Sharing Committee.