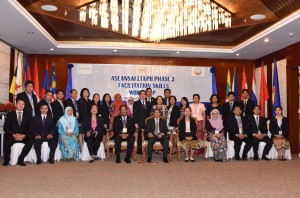 The Long-Term ASEANSAI Programme on ISSAI Implementation (LTAPII) – Facilitation Skills Workshop (FSW) was held at Don Chan Palace Hotel, Vientiane, Lao PDR from 7 to 19 May 2017 with 32 participants from seven ASEANSAI member countries took part in the workshop. The workshop aims to enable participants to acquire facilitation skill (advocator, project manager, and facilitator) to be able to deliver the designed course on Risk Based Approach on Financial Audit (RBAFA); and to start developing the ASEANSAI pool of trained ISSAI facilitators. Facilitation Skills Workshop the workshop was officilaly opened by Mr. Padapphet Sayakhot, Vice President of SAI Lao PDR and Mr. Roslan Abu Bakar, Director of Research, Corporate, and International Relations of SAI Malaysia as the Sub Project Leader of LTAPII Phase 2.
This workshop is a part series of activities of LTAPII which took place from 2015 to 2018 aimed to train the participants on the concepts and applications of ISSAIs by focusing on Risk-Based Approach on Financial Audit (RBAFA) with the relevant ISSAIs pertaining to it. The Phase I has been completed with the Audit Review Meeting which was held from 25 to 29 July 2016 in Bangkok, Thailand. Meanwhile, Phase 2 is planned to start at the end of 2016 to 2018 with the objective of establishing ISSAI facilitator's pool that aimed at a sustained implementation of ISSAIs in the ASEAN region and SAI. This phase will comprise of three parts namely, Training of ISSAI Facilitators, Monitoring & Evaluation of the Planned Activities and Certification of ISSAI Facilitators.
During the meeting, participants learned on how to become an ISSAI Facilitator. They have been tought the courses on advocating ISSAI implementation, facilitating the ISSAI implementation project, designing the participatory learning, staging of group development, managing group dynamics, presentation skills, leading skills and process, and facilitating structured activities. As the output of the workshop, participants drafted the action plan to implement their facilitation skills in their respective SAIs. This action plan was to be signed by Head of SAI and conducted within the 6-months period.
As a follow up, the meeting agreed to conduct the Interim Wrap-up Meeting to be held on December 2017 to define the strategy for 2 new selected pilot audits and to discuss the progress of LTAPII Phase 2.