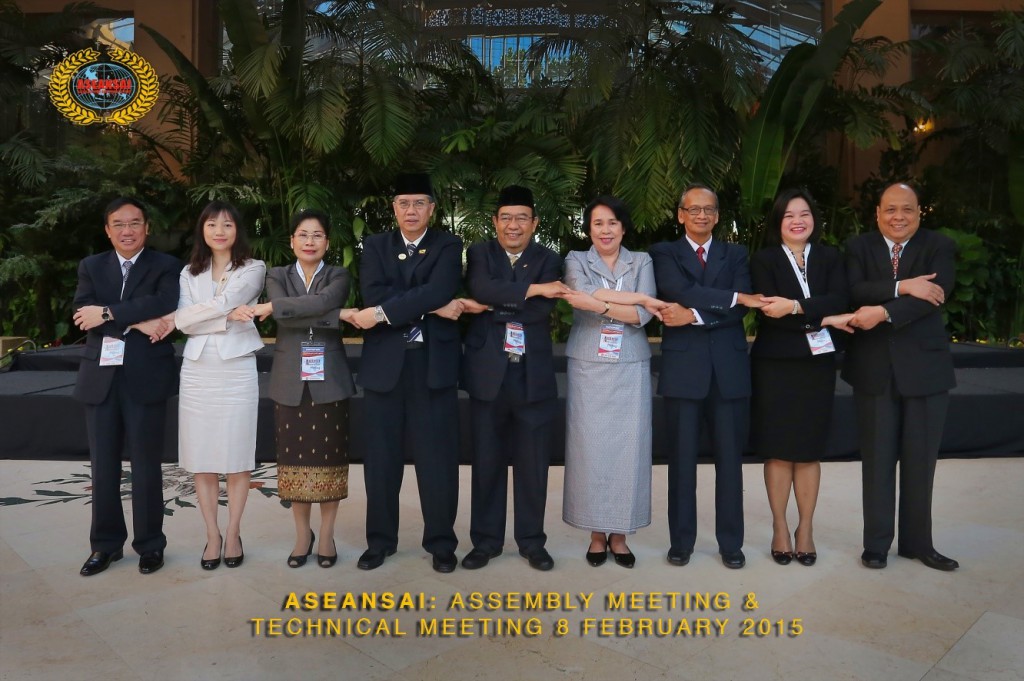 ASEANSAI Assembly Meeting, held in 8 February 2015, was attended by heads and representatives of 9 SAI members. SAI of Myanmar did not come to the meeting. SAI of Indonesia was represented by Harry Azhar Azis (Chairman), Hendar Ristriawan (Secretary General), Bahtiar Arif (Principal Director).
At the opening remarks Foreign Minister Datuk Seri Anifah Aman said Malaysia, as the ASEAN chairman this year, was looking towards ASEANSAI for recommendations to draw up a Post-2015 Vision for the regional grouping. He was to urge ASEANSAI to propose strategic objectives and action lines on areas such as transparency and accountability on ASEAN Community Post-2015 Vision.
Anifah said every ASEANSAI member's played an important role in upholding public sector accountability and transparency for the usage of government resources in a more prudent and accountable manner through fulfilment of public expectations and fostering governmental accountability.
"The well-being and livelihood of ASEAN people have been enhanced through poverty alleviation, social safety net and protection, access to healthcare and building disaster-resilient nations and safer communities." he said
Citing IMF's forecast world growth in 2014 and 2015 would be 3.4% and 4% respectively, and that the ASEAN region is expected to grow by 6.4% in both years. "Today we are in the one of the most dynamic and fastest-growing regions in the world with a sizeable population of 625 million, which includes a diverse range of economies in terms of size, stages of development and economic structure. ASEAN is home to many dynamic and emerging economies, thus economic expansion in the region are expected to be sustained and significantly outpace global growth as ASEAN continues to open up to global investors and accelerate foreign direct investment flows (FDI) for the next few years," he said.
Despite global financial turmoil, ASEAN has remained resilience with a steady economic growth and has seen good progression in areas such as human development, social welfare and protection, social and justice, environment sustainability and the creation of ASEAN identity awareness.
The success of the ASEAN's contribution towards the region's peace, prosperity and progress has enhanced the region's capacity to attract foreign direct investment and substantial trade growth especially from dialogue partner countries such as China, the United States, Japan and Korea. ASEAN will keep competitive relations among major powers by maintaining unity, cohesiveness, upholding neutrality with a forward looking approach. ASEAN neutrality concept must be proactive, dynamic and based on ASEAN's collective interests as the overriding principle.
Anifah urged the ASEANSAI delegates to continue upholding ASEAN tradition of enhancing good governance and accountability in the region, adding that the assembly should propose strategic objectives and action lines in regards to areas such as transparency and accountability.
At the opening Auditor-General of SAI Malaysia Tan Sri Ambrin Buang said the objective of ASEANSAI was to promote collaboration between auditors of member nations in strengthening capacity building on a national level. Standards have already been established on a global level, and by adopting them in the national level through knowledge sharing and training (between members) can facilitate the process of capacity building. Representatives of INTOSAI Development Initiatives described ISSAI Awareness for ASEANSAI top management and strategy for ISSAI Implementation Project.
The assembly discussed annual reports from executive commitee, knowledge sharing, strategic planning, training committee, and secretariat function. Special attention was put to concept paper on the strengthening of ASEANSAI Secretariat, ADB Proposal on Regional Technical Assistance (RETA), and ASEANSAI ISSAI Implementation Project. The assembly summarized feedbacks from all member SAIs and will circulate it at the end of February 2015. Since the proposal of strengthening ASEANSAI Secretariat was principally approved, the draft of ammended Agreement will be finalised and circulated. All members SAIs will administer internal clearance and other procedural needs. The ammended Agreement is scheduled to be signed at ASEANSAI Summit November 2015 in Cambodia.
Minutes of Meeting – ASEANSAI Assembly