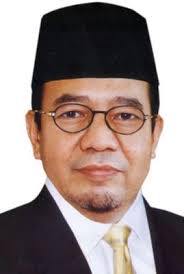 Harry Azhar Azis, Ph.D., assumed office as the Chairman of the Audit Board of the Republic of Indonesia, succeeding the former chairman, Dr. Rizal Djalil whose mandate expired on October 28th,2014.
Prior to his new appointment, Harry Azhar Azis, Ph.D. was a parliament member, economist and Indonesian political expert. He also served as Vice Chairman on the Commission XI of the Parliament focusing in the field of Finance, National Development Planning, Banking and Non-bank Financial Institutions.
Before engaging in the parliament, he was a lecturer at several universities in Indonesia. He has undergraduate education from the College of Industrial Management, Indonesia. Afterwards, he went to take Master degree in the University of Oregon USA and earned a doctorate in the Oklahoma State University USA, both in the field of economics.
During college, he had received several awards such as best student of the college in 1976 and Scholarship Award for ASEAN Youth in 1987 and 1993. In addition, he actively writes several papers which were published in the national and local media.
For additional information, please contact the Audit Board of Republic of Indonesia at:
Website: international@bpk.go.id