The Office of the Auditor General of Thailand hosted the Instructor Meeting at Swissotel Le Concord Bangkok on September 5 to 11, 2012. The meeting was attended by seven instructors and two observers. They were from SAIs Brunei Darussalam, Indonesia, Malaysia, Philippines and Thailand.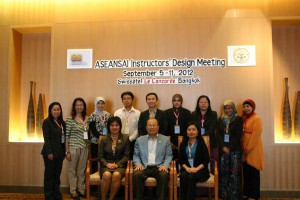 The Instructors Team designed and developed the QAFA Workshop based from the ASOSAI/IDI courseware and the QAFA Handbook. During the meeting, the Instructors Team agreed to propose to the ASEANSAI Secretariat that the QAFA Workshop will be held in Yogyakarta, Indonesia on December 3 to 8, 2012 with five days for the workshop and one day social activity. The Instructors Team likewise developed the criteria to be prescribed for the nominees who will be qualified to participate in the QAFA Workshop. They agreed to invite two to three participants from each ASEANSAI member to attend the workshop. After attendance to the QAFA Workshop, the participants should be required to conduct pilot QA reviews and send QAR Report including Utility Report to the ASEANSAI Secretariat.
In addition to the meeting in town, the OAG Thailand organized a study visit to Regional Office no.2, Chonburi Province and KHAO KHEOW Open Zoo. As a result the Instructors Team explored more of Thailand.