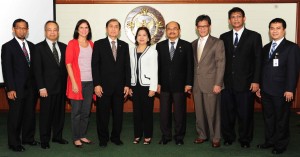 The Chairperson of the Commission on Audit (COA) of the Philippines, Ms. Maria Gracia Pulido-Tan, visited the Audit Board of the Republic of Indonesia (BPK) on March 15, 2012. She was accompanied by the Chairman of the Ombudsman of the Philippines, Ms. Conchita Carpio-Morales, and the representatives of the US Agency for International Development (USAID) of the Philippines, Ms. Maria Rendon and the Management Systems International (MSI) of the Philippines, Ms. Jacquelyn Williams-Bridgers.
The USAID, through its implementing partner, MSI, invited the Philippines Delegates to a study tour and to have a peer-to-peer dialogue with BPK. As a similar government institutions oblidged to support the implementation of the good governance in its respective countries including combating corruption, MSI's Integrity Project supports the COA with capacity building initiatives and has identified BPK as a regional peer organization with whom dialogues may be beneficial. Thus, the meeting was intended to share the information and experiences on the public sector audit and BPK's efforts to meet its performance goals and targets, as well as to strengthen the close cooperation between the COA and BPK.
Ms. Pulido-Tan arrived at the Head Office of BPK, Jakarta, around 10.00 a.m. and was welcomed by the Chairman of BPK, Mr. Hadi Poernomo, in his office. In
this occasion, the Secretary General of BPK had an opportunity to present about what BPK is like and its achievement nowadays. It is continued to the office tour of the Head Office of BPK and the visit to BPK Training Centre.
During the visit in Jakarta, the Philippines Delegates also conducted several other official meetings with the World Bank (the former Commissioner of the Indonesian Corruption Eradication Commission/KPK), the Indonesian Financial Transaction Reports and Analysis Center (PPATK) and the Transparency International Indonesia (TII).