Michael G. Aguinaldo
Chairperson of The Commission on Audit of the Republic of the Philippines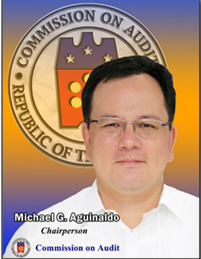 Commission on Audit Chairperson Michael G. Aguinaldo was appointed to head the Supreme Audit Institution (SAI) of the Philippines on March 24, 2015. Chairperson Aguinaldo is a lawyer with extensive expertise in governance and administration acquired from 23 years of professional work as private law practitioner, government official, and professor.
Currently, he is the External Auditor of the United Nations' World Health Organization (WHO), the Food and Agriculture Organization (FAO), and the International Labor Organization (ILO). He is also the representative to the Presidential United Nations Convention Against Corruption (UNCAC) Inter-Agency Committee.
Prior to his COA appointment, he was the Deputy Executive Secretary for Legal Affairs of the Office of the President and had been with Romulo Mabanta Buenaventura Sayos & de los Angeles law firm for 17 years. He also worked at the De Borja Medialdea Ata Bello Guevara and Serapio law office.
Chairman Aguinaldo obtained his Juris Doctor degree from the Ateneo de Manila Law School in 1992 where he was also a faculty member. This was followed by his Master of Laws degree from the University of Michigan in Ann Arbor in 1997, with special concentration in international economic law.