At the 2010 INTOSAI Congress, the International Standards of Supreme Audit Institutions (ISSAI) was adopted which provides a common frame of reference on standards, guidelines and best practices to safeguard independent and effective auditing in the public sector.
As members of the INTOSAI, SAIs are encouraged to adopt the ISSAIs in accordance with their mandate and national legislation to measure their own performance and auditing guidance against the ISSAIs.
Seeing the benefit of using a common framework of standards and guidance which allows auditors to share knowledge and experiences globally, and as a means to build the capacity of its personnel, the ten-member SAIs of ASEANSAI committed themselves to embark on a project on the ISSAI Implementation.
Initial LTAPII Project Design 2015-2017
Diagram for Phase 1 activities: Phase 1
Diagram for Phase 2 activities: Phase 2
The earlier activities of the project, the Phase 1, aimed at capacitating the participants with knowledge and skills on risk-based approach in accordance with the ISSAIs. An audit team from nine ASEANSAI members joined the project. Those who participated in the online course for the audit planning phase were the same set of participants who worked on the key phases of the programme: planning, execution, and reporting.
More information on the Phase 1: Report – Accomplishment Phase 1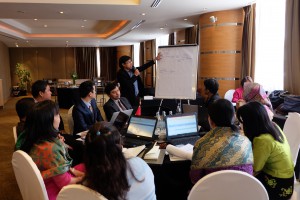 Audit Review Meeting in Bangkok, Thailand (2016)
While for the Phase 2, seven activities were implemented during the Phase 2 of the programme with the primary objective of creating a pool of ISSAI Facilitators in ASEANSAI. A large component of Phase 2 is dedicated at equipping LTAPII participants with necessary facilitation skills and knowledge for the delivery of workshop/training in ISSAIs in their respective SAIs and in the region.
More information on LTAPII and the Phase 2: Report – Accomplishment Phase 1 & 2
Diagram for Meetings of LTAPII: Meetings of LTAPII
Facilitation Skills Workshop in Vientiane, Lao PDR (2017)
The pool of ISSAI Facilitators consists of 18 LTAPII Graduates from 7 SAIs. These Facilitators were reviewed based on their knowledge and understanding on the ISSAIs, particularly in internal control and risk-based audit, and based on their performance in delivering the training/workshop related to ISSAIs.
More information on ASEANSAI ISSAI Facilitators: Pool of ASEANSAI ISSAI Facilitators
More information on Curriculum Vitae (CV) of the ASEANSAI ISSAI Facilitators: Compiled CV ASEANSAI ISSAI Facilitators
More information on ASEANSAI Resources (Resource Persons, Subject Matter Experts, etc.): List Mentors, Facilitators, Resource Person, SME LTAPII
Further, in order to push forward ISSAI implementation in the region, the sustainability of LTAPII will be carried out with LTAPII Graduates acting as mentors/facilitators in the collaborative project/program between ASEANSAI Training Committee (TC) and Knowledge Sharing Committe (KSC), IDI-ASEANSI Cooperation Program, and training on Financial Audit/Compliance Audit/Performance Audit.
Diagram for Sustainability of LTAPII: Sustainability LTAPII
More information on distribution of LTAPII Graduates in Sustainability Project/Program of LTAPII: List Confirmation for Sustainability of ASEANSAI