On 28 February 2017, the "Support to Financial Audit for the State Audit Organization of Lao PDR" officially launched its project Kick-Off Ceremony at Vientiane, Lao PDR. Through the Support to ASEANSAI project, Germany has been facilitating the exchange of knowledge and experiences and as well as the implementation of International Standards of Supreme Audit Institutions (ISSAIs) to enable ASEANSAI to fulfill its mandate as a regional association of SAIs in the region.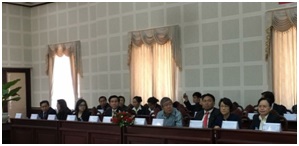 The GIZ regional project "Support to ASEANSAI", which works with the regional organization of Supreme Audit Institutions (SAI) initiated the trilateral project (Lao-Thai-Germany) and fund it together with the Thailand International Cooperation Agency (TICA). Under the trilateral cooperation framework, the State Audit Organization (SAO) financial auditors of Lao PDR will carry out the activities with the support of Thai and German experts in the 3 mains areas within 2 years (2017-2018) in strengthening the capacity of junior financial auditors, Development of training curricular and courseware for junior financial auditors and Enhance the capacity of SAO training center and financial audit instructor
On this project, Chair of Training Committee also invited as the Project Leader of Long-Term ASEANSAI Programme on ISSAI Implementation (LTAPII) to attend the kick-off meeting and join the Project Steering Committee (PSC) as the member. PSC is an advisory body of the project to ensure successful implementation as a high level supervisory body to the project.
For the regional project the trilateral approach brings a lot of value added in terms of sustainability, effectiveness and efficiency. [GIZ ASEANSAI]